BLAST Pro Series tickets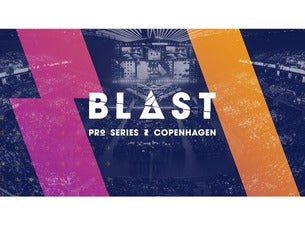 BLAST Pro Series is the world's newest and most explosive Counter-Strike: Global Offensive event! With an audience of more than 10,000 in the new state-of-the-art Royal Arena, it is the largest esport tournament ever in Denmark.

The doors open at 11:30, the first round of matches is set to start at 13:30, and when the trophy is lifted and the winner is crowned, you'll have witnessed six of the world's best Counter-Strike teams, including the Danish Derby between Astralis and North, battle it out on the new, unique triangle stage in the middle of Royal Arena! A tournament where ALL GAMES MATTER!

The first half of the program includes the last three and decisive rounds of group stage matches and a chance to see the qualifiers simultaneously with all decisive moments and highlights on the main screen. Experience the constant fan involvement and audience surprises while being guided through it all by Anders Blume and his team of world-class casters. The second half includes a couple of surprises and the Grand Final - one game, one stage, one winner!

Forget the usual fear of missing out on seeing your favorite team on stage. Forget the uncertainty of who's playing when. All teams will play on stage! Forget waiting for hours or even days for the exciting games. All teams play in the arena on game day!

You don't want to miss this one! It's the new face of live esport entertainment!
1 Events for BLAST Pro Series
1 Event
Events in

Denmark

(1)
BLAST Pro Series - Copenhagen

Sat

13:30